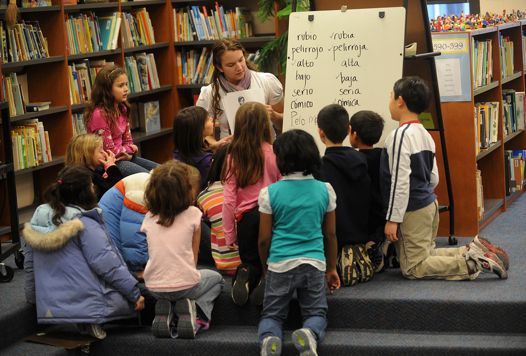 University of Michigan senior Shelagh Fehrenbach works with a group of third graders on Spanish words during a class at Ann Arbor's King Elementary School. Melanie Maxwell | AnnArbor.com
It was a treat to have daughter Shelagh and her husband Jordan home for a short Thanksgiving holiday. My favorite moment was when Shelagh was reacquainting herself with the piano and Beethoven's "Sonata Pathetique" in all its head=banging glory while Jordan and I swept up the kitchen and Anna hovered over Shelagh's shoulder, turning pages and watching music and hands.
We ate a smoked turkey from
Carlson's
and lots of side dishes. Shelagh and I sort of tag teamed teaching Anna how to make the pies. We burned the first baked pie shell so we had two lemon meringue pies and no apple, but apple is an everyday pie and lemon meringue only shows up when Shelagh comes home, so everyone was happy. I cut up a home grown big Long Island Marrow Squash, roasting part of it in chunks and cooking down the rest for pie filling. Yams with coconut milk and garam masala has been my favorite leftover dish.
Shelagh and Jordan went back to Ann Arbor on Saturday. Shelagh is
student teaching
in a third grade classroom at Martin Luther King Elementary, hoping to be lucky enough to get a teaching job after graduation, but making plans to work odd jobs until Jordan finishes his degree.
You can read more about the Ann Arbor Language Project
here
.