Some say it's criminal, what women will do,What they're forgetting is, this is 1922!
Last week I mentioned the
Leelanau Children's Choir
concert Throughly Modern Musicals. The lead song from Throughly Modern Mille keeps running through my head, reminding me of stories that my Grandma Mimi told me about growing up in the beginning of the last century. I made up my mind to reprint an article I first published on
Leelanau.com
the year that Mimi died. I am able to add some pictures, courtesy of Uncle Bryan Harry.
My grandparents retired to Leelanau County in 1962; many of you knew Mimi and Gordon Harry. My grandmother, Mildred Harry, died this January at the age of 97. What follows is an oral history of her life as told to my mom, her daughter, on the occasion of her 95th birthday. The bracketed parts are the story the way she told it to me, her granddaughter. This first installment covers her life until her marriage. I know that not many people are lucky enough to have an ancestor able to tell the story of an entire century, so please let me share mine:
Mimi was born Mildred Bryan Wheeler on May 26, 1903 in St Louis, Missouri, the daughter of Maude Dell Bryan and Charles Medley Wheeler.
Mimi's parents ran away from home to be married, causing much friction in both Bryan and Wheeler households. The young Wheelers lived in St. Louis where son Thomas "Bud" was born. Mimi's father died July 13, 1909 leaving Maude with two young children to raise on her own. [Mimi was the older child. Bud was about 18 months younger. Mimi's father died of tuberculosis.]
Maude took her children home to her parents to live first on Spanish Street and later Larmer Street in Cape Girardeau, Missouri. They all lived in the big houses; Maude painted and catered parties and functions to support herself and her small children.
Grandfather Bill Bryan and Mimi's grandmother Margaret (called Susie) were a great part of her life as were Uncle Bill Bryan, his wife Sal and their son, her cousin Billy Bryan.
There were diverse religious influences - The Bryans were Methodists, the Wheelers Catholic. One influence I've heard most of over the years from the Wheeler side was Christine Wheeler Heil, sister in law of Maude. She remained an influence in Mimi's life long after both of her parents had died.
Life was full and boisterous on Larmer Street. When the weather grew hot and muggy in the summer the whole family would travel by train to Glenwood Springs, Colorado. Margaret's (Mimi's Grandma Bryan) father was a miner in the west and Colorado seemed to be a home base, at least part of the year for the family. [When my own children (Mimi's great-grand children) were babies, Mimi was quite interested in their vaccinations. I would recite the name of each disease that they had been protected from; diphtheria, whooping cough, polio, tetanus, mumps. She had stories to tell about each one. She had friends who had died from each one of these, and she had herself suffered from diphtheria, measles, mumps, and whooping cough. She described her bout with diphtheria as a two month haze during which her mother sat by her bedside waiting to see if she would live or die. I think that the trips to the mountains in the summertime were the family's way of escaping the epidemics of flu and cholera that were sweeping the cities during this time.]
Mimi's Grandpa Bill Bryan was a train conductor and so it was natural the family would pick up and travel by train to Colorado each year. Trains were the mode of transportation; cars were just beginning.
Growing up was fun, gregarious with grandparents, Mom and a Negro Mammy Snooks caring for Sis (as she was called by her family) and Bud her brother.
When Mimi was 12 her mother married John Meyers. This was hard for Mimi to take and she refused to call John father or Dad. Finally she needed a new winter coat. John said he would buy her one if she would become friends and call him Dad - which she did and thus began a warm and trusting relationship.
A baby girl was born to Maude and John Meyers. This child was our beloved Aunt Mary, named Mary Margaret Meyers, a wonderful joy in our lives for many years.
Mimi often speaks of her happy years in high school and later her horrendous experience in boarding school in Bristol, Virginia. Later in her nineties, she couldn't imagine how she chose to go to boarding school over a trip to Europe with her Grandma Bryan!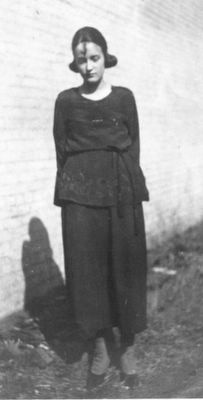 Mildred Harry, schoolgirl, with her "cootie garages".
[Mimi ran with a "fast "crowd in Cape Girardeau. More traditional girls wore their hair long, coiled in one or two buns on the back or sides or their heads. Mimi's crowd distained these "cootie garages" and bobbed their hair at the first opportunity. Mimi told me of how Maude would drive all over town in her Model A to find out where her teenage daughter was hanging out and bring her home. There was one boy in particular that Mimi favored and her mother did not. To break up the romance, she was sent away to Sullins School, 500 miles away at the other end of Tennessee. Unbeknownst to Maude, Mimi's admirer relocated, too, and got a job as a taxicab driver in Bristol. When the girls wanted to go to town, guess who was driving them!]
Life in Boarding school seemed to be a time to break all the rules. Rules made to dampen the spirits of young girls.
Back in the "Cape", as Cape Girardeau was known as were many friends gathering to dance and play music mostly in private homes.
The airplane was being developed - not super sonic jets like today - small single engine planes. Somewhere there is a picture of Mimi up for a ride in one of the early models.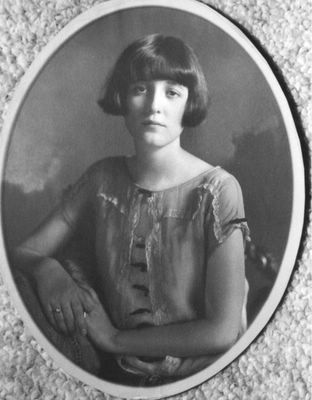 Mimi, a few years later, with her new bob.
It was the beginning of the famous 1920's and indeed Mimi was a Flapper learning the Charleston, the Blackbottom and dancing to music of friends who would be musicians in the Jazz period including her friend piano player Jesse Stacey.
After graduating from SE Missouri State Teachers College, Mimi and her friend Winter Green (Sally Lou Howard's Mom) set off for Michigan where they were hired to teach school in Flint.
Winter in the North seemed a harsh place for the young woman from Cape.
A handsome young engineer
made things easier by always being around to take her for lunch and picking her up in his car. This proved to be a friendship that grew and lasted for more than 65 years. Mimi married Gordon William Harry on August 30, 1927 in her family home, 224 N. Larmer St., Cape Girardeau, MO. [Grandpa was on the school board (the way Grandma tells it) and was assigned to pick her up at the train station when she first came to town. She told me: "I had lots of fellas back in the Cape, but once I laid eyes on Gordon Harry, the rest of them just seemed like dime store cowboys!"]
[A few years ago we unearthed a box of pictures from the time when my grandparents were newly married. There were so many pictures of them and family and friends ready to go out dancing, on fishing trips, at the beach, with their new cars. I spent an afternoon with Mimi on my front porch while she told me about the pictures: "I had forgotten how much fun we had, dancing every night, we had a ball!"]
They set off to Niagara Falls for their honeymoon and then made their home at Mackin Rd. in Flint, Michigan.